I don't know why I agreed to spend two days with little J.Q. in the first place. I know how my body feels after spending one day with the lil' devil: wide band of gnawing pain across lower back; hot poker twinge in left, right or both knees; weakened, worn-down muscles from lugging a dense, highly-compressed hominid around for 10 or so hours; T5, my constant vertebra companion (pictured above), sending an intense, two-inch wide tingling sensation from himself to my right underarm and then on around to my right breast nipple; a defeated, demoralized mental state caused by flecks of dried feces on exposed skin, chewed shoelaces, several small bite marks on my face and chest, Gerber Stage 2 Sweet Potatoes & Apples smeared on my eyeglasses and a long, jiggling strand of booger hanging from the hair at the nape of my neck... .
I could go on, but in truth it's all worth it. It's wonderful to see that crooked little grin when J.Q. first sees his Grandma Priscilla and to see those little arms shoot out for me to pick him up. Those cool, solid little legs. His rose-petal-soft skin. The smell of his silky, soft hair as he nestles under my chin. His muttering, "NaNa," in this case meaning Grandma, but also meaning hungry ("na-na-NA-NA-NA-NA!") or banana ("NA-NA! NA-NA!"). His recognition and delight in our special baby games - rolling the ball, patty-cake, little piggies, so-big, peek-a-boo. His craftiness, his silliness, his determination. His doll-like physical appearance. He's just the sweetest little thing, and it's so, so easy to forget my own physical limitations when asked to put in a some extra time with the little guy.
So, when #1 Daughter,

Mrs. Thumbscre.ws

, asked me for an extra day this past Wednesday, I agreed. After all, it was just a one-time thing as she switched over to a 5-day work schedule; next week J.Q.'s usual daycare could take him for the extra day. I was with J.Q. every Thursday anyway, and #1 Daughter's new schedule would put her at home sixty to ninety minutes earlier than usual, so WHAT THE SMOKIN' HELL? More time with baby, RIGHT?
Wrong. While J.Q. was the most adorable, pleasant little guy on Wednesday, he had a different agenda in mind for Thursday. I didn't sleep well on Wednesday night and was grateful on Thursday morning for the little coffeemaker #1 Daughter had installed up in my room at her house. Even the Brown Marmorated Surprise East-Coast Visitors clinging to my bedroom windows seemed to be moving a little sluggishly Thursday morning. I had two cups of coffee down before the first of them lumbered over to ask for a sip.
I thudded down the steps slowly on swollen legs and took the handoff from Mr. Thumbscre.ws on his way out the door. J.Q. seemed a little sluggish, too. His "Hi, Grandma!" grin was a little shorter and less enthusiastic than on Wednesday, and he objected strongly to being put down on the floor while I made his bot-bot. Matter of fact, he objected strongly to my doing anything but holding him for most of the morning. I kept J.Q. up until after lunch before attempting to put him down for his nap. We played upstairs for a long time before we went outside in the stroller to be rolled back and forth and back and forth, staring at the big tree until he conked out.
J.Q. went out just in time. T5 had been at me for some time, bitching steadily through the morning hours and then ramping up to bullying nastiness by 1:00pm. "Look, Priscilla, you idiot! I can just hunker down and squeeze that disc all the way out to your f***ing liver if you want!" (Priscilla has stopped using the F word - T5 has not.) "Now, I want some morphine, an ice cream sandwich and to sit down and watch Court TV, so put that brat in the crib and let's get some TUBE TIME IN!"
Baby was in a better mood after his nap, and he decided to stage some races with his stuffed dachshund and get Grandma hoppin' as well! I'll let J.Q. explain his favorite Activities for a Thursday Afternoon (When You A Baby!)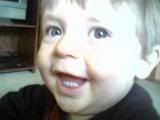 Hi, babies! Me J.Q. Me CUTE! Gwamma say so!
Dis how me keep Gwamma busy so she not get bored and take nap.
You twy dis wiff YOUR Gwamma, too!
But not twy wiff MaMa/DaDa - dey get MEAN!

Chase Cat. It hard not go HEE-HEE-HEE when we get Kitty in corner, but if we waff too much, Gwamma will hear and get Kitty tail out of our mouf before we can BITE IT. Ha-ha-HAHAHAHAHA!



Take Diapey Away from Gwamma. Dis work well wiff a pee-pee diapey, too, but Gwamma not get scared wike wiff poo-poo diapey. Just when Gwamma is open second tab on diapey, stick wittle hand under our butt, gwab first tab, yank diapey stwait up and pwetend we COWBOY and diapey is LASSO! If we fast cowboy, Gwamma get face full of pee or poo, and she skweam and skweam and skweam! HA-HA-HA-HAAAAA-HAAAAAAAAAAAAA! Dis one never get old!



Pee in Gwamma Face. Always good for waff! Gotta give old bat kwedit, dough, she getting faster wiff cover up Mr. Winkles before she get compweetwee soak. HEE! Pee-pee FUN! Poo-poo FUNNER!



Stuff Peas Up Nose. Why dey get so mad? It not dere nose... It OUR nose! Maybe we need get a few peas out for snack in case we get hungwy beefore supper! WOTTEN GWOWN-UPS!



Spit Cottage Cheese All Over Gwamma. P'tui, p'tui, p'tui! Me spit food on you-ee! HA-HAAA-HAH! Wait...Gwamma! NO! NO! No washkwoff! Me not done! REAWY! ME HUNGWY!!!


GWAB! Gwab EVWYFING! Gwab weemote contwols, magazeems, Gwamma gwasses, toity papoo, icky buggies, folded waundwy, cords, dirt on fwoor, dvd's, table-kwoff, cups, pwates, ovver people food, cabinet handoos, baby powdoo, shoewaces, kitty food, toity bwush, newspapoo, banana, gwandfovver kwokk, Gwampop muff-tash, pen, kitty, doggie, bwanches on twees, wight switches, noses, EVWYFING! Gwamma go, "NO, J.Q.!!! NO! J.Q., NO! FTOP, J.Q.! FTOP!" Ha-ha-ha-HAA-HAAAA-HA-HA-HAAAA-HA! Oh, and stuff EVWYFING in mouf! Or up nose!


Me Add More Soon. Me haffa put Gwamma down for nap now. She fussy.